Hey guy's, I decided to make a simple tutorial for Money Robot software (designed for beginners), first of all, for the people that don't know what Money Robot software represent  I will tell you that the software is the best high quality link builder tool that creates very good quality links from authority sites with high page rank (PR: 5 6 7 8 9). The software is also the single blogs creator software that is able to create and manage unlimited number of blogs. The blogs platforms offer one of the best sources for backlinks from
Here is a simple video tutorial created by Nick :
STEP 1
The Money Robot installation process, I have described the software installation process step by step here, it is not hard to install it, but somehow I had some problems creating my first 7 days trial version account and I described step by step all the installation process of Money Robot in this topic.
STEP 2
The software is installed and it is started, but how to start working with the software, what is the first step to do:
Money Robot software is actually solving the simple captchas for free, but the complex captchas can't be solved automatically, so this requires a decaptcha account, here you can see how to purchase a 2captcha.com account for $10 (about 12000 captcha solved package) this account usually is enough for 1-2 months and it will auto solve the captchas for you and it will send back the solved captchas to Money Robot automatically. Remember this process of purchasing of decaptcha account is not absolutely necessary, but recommended because it will save time.
After you purchased the captcha account, you need to insert your 2captcha API key into the software, this process is very simple you will only need to press on Settings button > and then go to "Captcha services" tab and insert your captcha API key and then you need to press on "check Balance" button to make sure the captcha KEY is inserted correctly. If you will see the message "Invalid API key" then you need to check again the API key (use copy paste), after you press to "Check Balance" button and you will see the message showing you a number like : $10 (depends on the amount you have purchased) then you can press on save button and go to the next step.
In this image you can see how to insert the captcha API :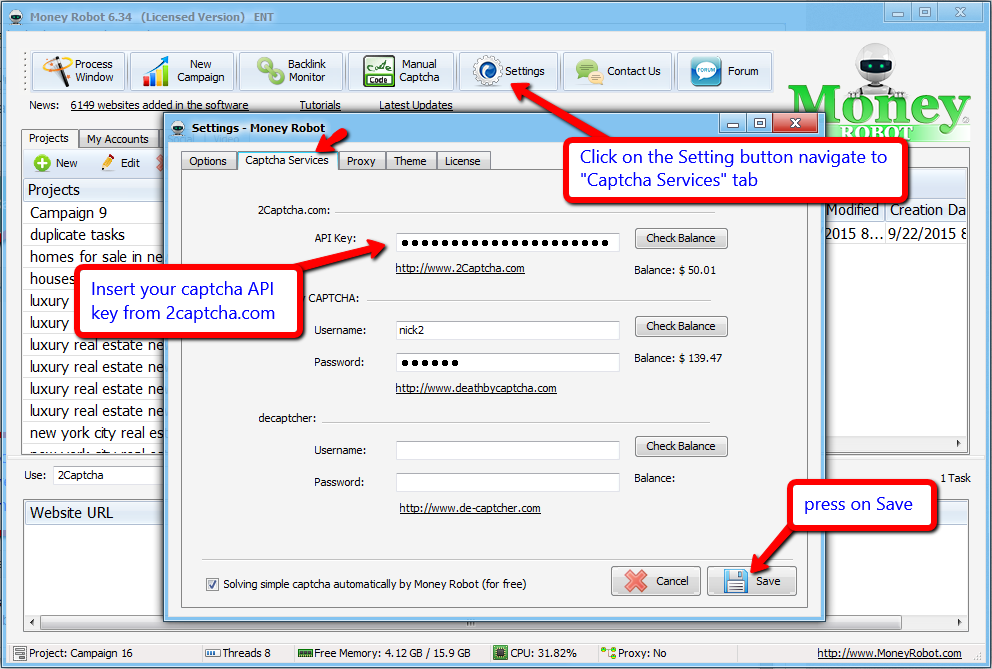 STEP 3
Now the software is installed, everything is configured correctly, and it is the time to start the first campaign, press on "New campaign" button and in the new window you can start to fill in your details, first you need to insert your website URLs, I usually prefer to insert 3-5 internal pages URLs (including also the homepage URL), next step is filling in your keywords (the keywords are the words that you want your website to be ranked on fist pages of google), now is the time to insert your article, I always use the articles that the software will create automatically and you only need to press on "Create unique articles using MR Article Builder" this will auto create the articles that are 100% unique and related with your keywords, self article creation it is a feature that is actually saving a lot of time.
Next step is selecting of diagrams, diagrams are special seo strategies that are using multi tiers of backlinks, basically the links that are created by the software have multi tiers like : tier 1 of links can be blog links > tier 2 can be web 2.0 profiles links that are pointing to blogs tier > tier 3 of links are pointed to tier 2 and tier 2 to tier 1, this process is actually sending and multiply the "juice" throw tiers and it makes each link much more powerful, it is probable the best ranking solution that exists, I usually use the first medium diagram from the list .
Here you can see an image where you can view all details needed to start a campaign :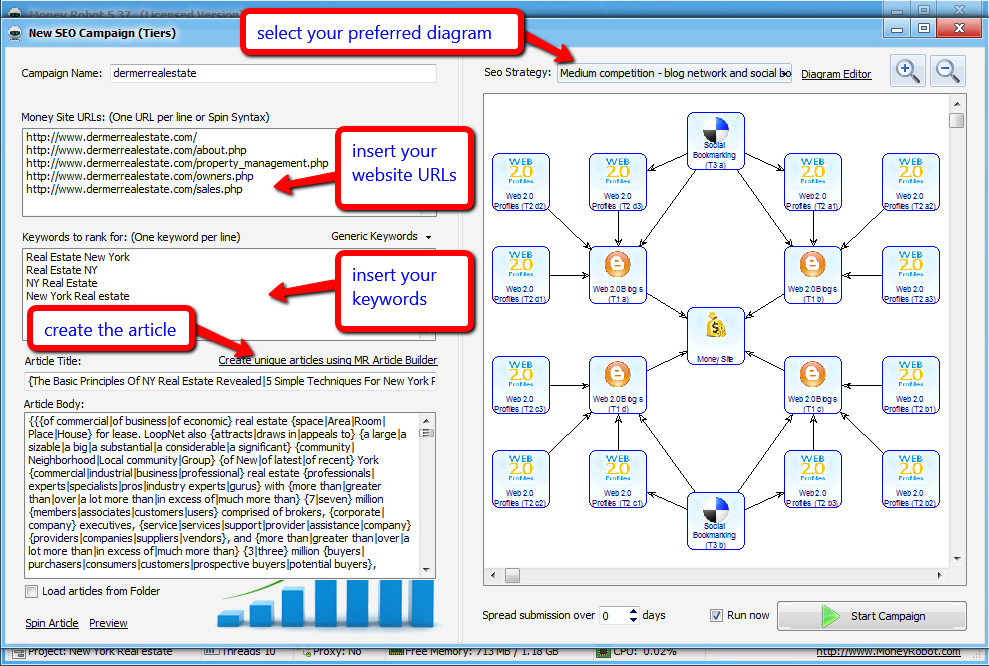 After all this campaign details are filled in you need to press on "Start Campaign" button, and now is the time to sit back and relax, Money Robot will do the rest of the work.
This was my simple Money Robot tutorial for beginners. I will try soon to make one more tutorial for experts where I will show the advanced and hidden features of MR.